Max's books include: The Power of the Dao (2023), Mastering Coaching (2015), The Tao of Coaching (2015, 1996), The Tools of Leadership (2000); The Tao of Motivation (1999), and four further titles on the outdoors.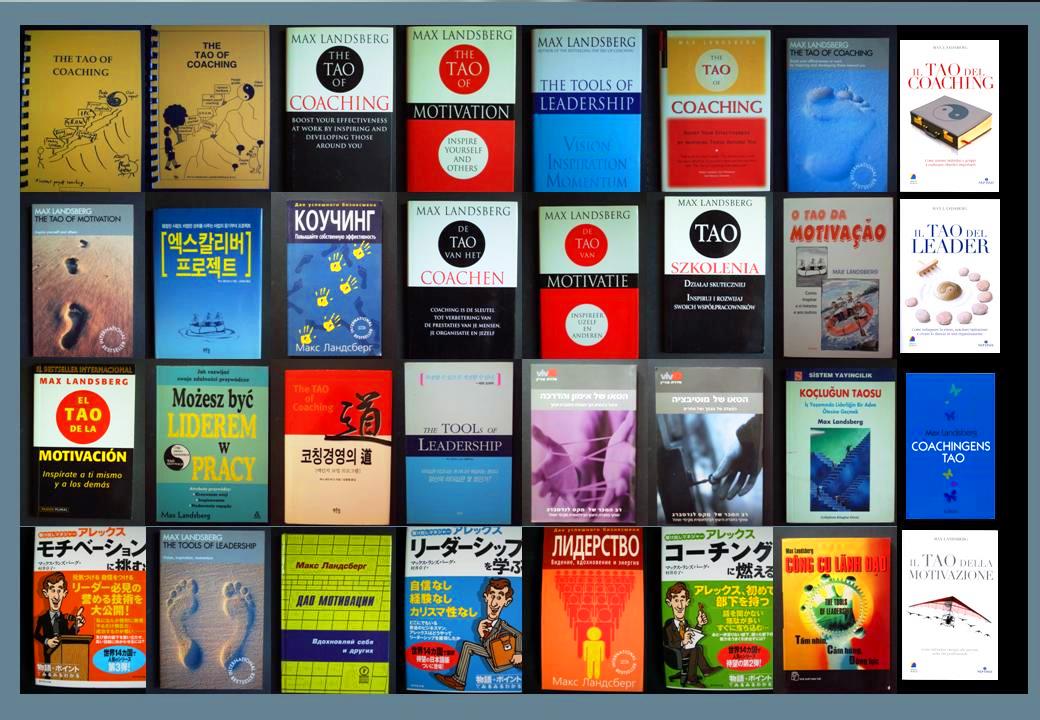 The following endorsements include those from CEOs, Chairpeople, an Olympian, New York Times best-selling author, MP, Amazon President, EVP of HR, and David Kirk - Captain of the 1987 World Champion All Black rugby team. All indicated roles are as of the date of publication.
Max has also written award-winning books on the outdoors, including The Call of the Mountains, Trek to Everest, Ridgeway, and Land's End Circuit.
The Power of the Dao
"Insightful and engaging! The Power of the Dao hits the mark with powerful techniques for living a more fulfilled life." Dr. Marshall Goldsmith, Thinkers50 #1 Executive Coach, and New York Times bestselling author of The Earned Life, Triggers, and What Got You Here Won't Get You There
"One of the best books I have read on personal development and growth. It helps you to understand and put into practice timeless principles that allow you to navigate the increasing complexity of today's world in a purposeful and fulfilling way - I am sending copies to my friends and CEO contacts". André Andonian, Board Chair, CEO coach, and former Managing Partner of McKinsey in Korea and Japan
"Flow state is a coveted goal of all endurance athletes, including mountaineers. The habits described here are directly applicable to ascending all of the peaks of life." Tom French, Everest summiteer
"Max Landsberg has crafted a wonderful fusion of Eastern and Western thinking to offer insights and habits for living in productive harmony with each other and the cosmos". Alice Au, Board Member and co-lead of Asia Pacific Board and CEO Practice, Spencer Stuart
"This excellent book shows the everyday habits that can help us live in tune with the cosmos, each other, and ultimately ourselves." Vlatko Vedral, Professor of Quantum Information Theory, University of Oxford
"Engaging, enjoyable and actionable. The Power of Dao playfully distils ancient wisdom into practical actions for today's world". Paul Willmott, Chief Digital Advisor, LEGO Brand Group
"Max offers insight into challenging ideas and practical steps to apply them in our over-busy lives." Keith Leslie, Chair of Samaritans
"Flow is a gift we can give ourselves. This book shows how." Professor David Clutterbuck. Special Ambassador, European Mentoring & Coaching Council
"In this era of extraordinary disruption, never has there been a greater need for leaders to achieve 'Flow' and the book that Max has written is about the best guide you could wish for." Humphrey Cobbold, CEO, PureGym
"If you want to learn the seven habits to living a more fulfilling life, this is the book for you. In it, you'll find a treasure trove of tools to thrive in a challenging world". Dr. Declan Woods, Professor of Leadership Practice, King's College London and CEO, teamGenie®
"This book is a great read. It shows how you can engage with nature and your environment in an authentic way, and the great benefits in doing so." Doug Gurr, Director, The Natural History Museum
Mastering Coaching
A coach for the coaches! Max Landsberg has created an entirely new approach to coaching - you'll be more effective than ever, and your clients will thank you for it. Mastering Coaching demonstrates how coaches can up their own game by customizing their style to the needs of their clients. Landsberg has identified the most important coaching tools available! Marshall Goldsmith, author of the NYT#1 bestselling Triggers and global bestsellers MOJO and What Got You Here Won't Get You There.
Thought provoking survey of the field - some new ideas for me and, I suspect, for many. Douglas Gurr, President, Amazon China
I would highly recommend this book. Mastering Coaching takes complex subject matter and turns it into useable content for coaches working at all levels, incorporating theory and practice and full of great nuggets of actionable content. A must-read for any coach committed to their craft and serious about their personal development. If you are prepared to read this book and study it hard you will be rewarded by becoming a better coach; after reading it, I feel inspired. It has reminded me that the motivated and skilled coach can make a positive impact on not just their client, but on the whole of society. Great coaches can make great people. Andy Grant, Senior Coach Education Advisor at sports coach UK
A magnificent summary of the present state of coaching. The reader will find excellent summaries of most of the main trends in contemporary coaching, with helpful guidance and suggestions as to how to use each approach in practice. It provides an ideal 'what next' for people who have completed a coach training and want to continue their development. Jon Stokes , Leadership Consultant and Coach, Stokes & Jolly Ltd; Associate Fellow, Said Business School, Oxford University.
Effective coaching is at the heart of strong leadership practice and in Mastering Coaching Max Landsberg brings together the best of insights from neuroscience, sociology, expert performance, business and his own extensive experience as a coach, enabling his readers to broaden their coaching "toolkit" and to develop themselves and their teams as effective coaches. The strong balance of academic insight, succinct explanation and practical application means that the book provides something for every coach, regardless of where they are on their personal journey. Caroline Curtis, Head of Executive Talent, Succession and Development at Santander
Want to top up your coaching skills? This book is what you need, full of insights, authoritative comment and practical understanding. Max Landsberg is a master of coaching. Andrew Campbell, Co-founder and Director, Ashridge Strategic Management Centre
Truly masterful coaches combine a systemic perspective with depth of reflection on a wide body of relevant knowledge. In Mastering Coaching, Max Landsberg delves into the eclectic knowledge that underpins a coach's journey towards mastery. Professor David Clutterbuck, Co-founder, European Mentoring & Coaching Council
Winning an Olympic medal at 40 required me to 'unlearn' a few things before I could relearn to be part of a new and hugely successful TeamGB. As coaches we also need to be prepared to challenge our habits and look differently at our practise. This book helped me to rethink the way I approach coaching relationships. It provides new ways to tackle old problems and encourages us to think, act and perform more effectively. Greg Searle, Olympian
He's done it again - Max Landsberg has written an eclectic, practical guide to help newcomer and experienced practitioner alike master coaching. Declan Woods, Global Head of Standards and Accreditation, Association for Coaching; CEO, ZPD Consulting
Max cuts mercilessly through the guff, to distil the best of the insights, tools and science we need to be world class coaches, leaders and friends, right now. Anne Scoular, Founder, Meyler Campbell
This is a genuinely good book, elegantly exemplifying its own messages: Max Landsberg doesn't tell us what to do, but illuminates the reasons for doing what we already know we should. The topics for each chapter are foundational in their importance, and written in a way that invites the reader to connect and contribute thoughts of their own. This is the mark of an author who has really mastered the practice as well as the theory. Jonathan Gosling, Professor of Leadership, University of Exeter
Coaching may be the most critical leadership skill to multiply capacity in your organization. Mastering Coaching gives you the practical and transformational tools needed to accelerate individual, team and organizational potential. Get this book and master coaching! Kevin Cashman, Senior Partner, CEO & Executive Development, Korn Ferry; bestselling author of Leadership from the Inside Out and The Pause Principle
Mastering Coaching offers a set of unique insights into the role of the Coach and the knowledge required to coach effectively. By drawing on a wide range of references and sources, Max Landsberg successfully describes many of the key ingredients required for a thorough understanding of how coaching works, and the part that it plays in improving human performance. Martin Burgess, EVP of Human Resources & Communications, Cobham plc
Being an effective leader of a business requires us to spend many hours each day coaching. We may not realise that is what we are doing when we are interacting with our teams, and it certainly is not described in our diaries as "Coaching Session". But coaching it is, whether it's working with our teams to deliver a world-class solution to an issue, or self-coaching as we seek to make our own individual performance ever stronger. The problem however is two-fold: keeping up with the continual advances in coaching techniques that draw from such a wide cross-section of disciplines and tailoring our own approaches so that they are best suited to addressing the multitude of requirements inherent in today's workforce. This book provides a great service in helping the leader manage these twin challenges, acting as an invaluable guide to keep us current and effective in our roles. Alistair Cox, Chief Executive, Hays plc
Max Landsberg's latest book is an insightful read. By using real-world examples and intelligent, multidisciplinary research to teach coaching skills, he gives clarity to complex topics. This book is a key tool for mastering coaching of any kind. Petros Kalkanis, Area Managing Director & Vice President, Johnson & Johnson Consumer Health Care
An essential read for coaches. Judith Barton, Director of Coaching & Mentoring, British School of Coaching
The Tao of Coaching
An easy-to-read, informative book. Management Consultancy
Great coaches in sport and business are made not born, and they make themselves by thinking, planning, listening and systematically building their skills. In this book the great coaches of tomorrow have found exactly where to start their journey. David Kirk - Captain of the 1987 World Champion All Black rugby team
Practical, readable and relevant. Archie Norman - Chairman, Asda Group plc, ITV and formerly of ASDA
You can't be a leader without a following - this book will help you develop others (and yourself). Valerie Scoular - Director of Customer Service, British Airways, HR Director of Aegis
Effective and motivated people are the key to effective organisations, and high quality coaching is vital to individual performance. This practical and readable guide explains how coaching - though ultimately art not science - can still be improved by thinking, planning and listening. Adair Turner - Director-General, Confederation of British Industry
I'm making this useful guide required reading for my executive team. George Farr - Vice-Chairman, American Express Company
Tools of Leadership
"A valuable stimulus to thought and action." Robert Heller - founding editor of Management Today.
"Succinct yet comprehensive, practical yet entertaining - few management books combine all these traits, but this is one such contribution." Petros Kalkanis - European Business Director, Gillette
"By uniting the theoretical and the practical with the entertaining, Max Landsberg reinforces the message that leadership is a skill that can be learned. Much more engaging than you average management 'bible', The Tools of Leadership should inspire whether you are at the top of your organisation's leadership mountain, halfway up it or way down in the valley." Damian Wild - Editor, Accountancy Age
"A serious treatise on leadership, written in an engaging manner to touch anyone who wishes to be an outstanding leader." Susan Bloch - Head of Coaching, Hay Management Consultants - - "Leadership: it takes many forms, is hard to define, but you know it when you see it. This book should be of great help not only to the aspiring leader, but also to those who are already in that role.". Harry Langstaff - former Brigadier, the British Army
"A superb integration between the theory and practice of leadership - an engaging guide for those who wish to be outstanding leaders." Ruth Tait - Partner, Korn Ferry Executive Search
The Tao of Motivation
The author successfully demystifies the murky world of motivation, and offers highly practical advice with customary insight and humour. Ben Cannon - Director of Training and Development, Goldman Sachs & Co
In sport, it's easy to have an exciting vision. In business, that's often more difficult, but the process for turning that goal into reality is just the same. This book shows you how to make vision exciting and how to follow it through. Greg Searle - Olympic Gold-Medallist and World Champion Oarsman
Few investments are risk-free. Motivation is one of them. This practical and engaging guide helps to show you the way. Adair Turner - as Director-General, Confederation of British Industry
In a world of tight deadlines and heavy pressure, motivating people is more important then ever. The Tao of Motivation provides a wealth of practical tips, relevant stories and a good dose of humour. Carolyn Fairbairn - Director of Strategy, BBC Worldwide
Motivating colleagues is today an essential qualification for the successful manager. Max Landsberg's Tao of Motivation brings together all the latest thinking in a lively and entertaining form that combines the light touch with serious thinking - a motivational read! Archie Norman - Chairman of ASDA Group plc
This book is a rich and vivid mix of serious theory, witty practice and handy models. It left me full of ideas, prompted to swing into action, and of course . . . thoroughly motivated. Rita Clifton - Chief Executive, Interbrand
The wise invest in motivating people. This book shows you how. Charles Alexander - Managing Director, Lehman Brothers
Interested in motivation? Then buy this book - you're worth it. Not interested in motivation? Then buy a book on preparing your cv instead. Patrick Dunne - Director, 3i plc
Successful leaders inspire ordinary people to achieve the extraordinary. This book is motivational. It will help you get the best out of your colleagues and yourself. Christopher Rodrigues - Group Chief Executive, Bradford & Bingley Building Society
The skill of motivation is neither a charisma contest, nor an impenetrable science. This book provides refreshingly practical insights, and an engaging read. Roger Holmes - Managing Director, Woolworths plc
At the heart of leadership is the ability to motivate - whether it comes naturally or not. This book is a must-read. Ruth Tait - Head of PA Executive Search and Selection